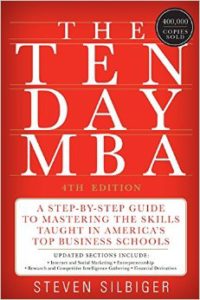 meh.
The last time I was applying for a job I wondered frequently whether it would be a worthwhile investment for me to get my MBA. Many people go and get their MBA to get the sort of job that I had at the time. But would it have made me a more attractive candidate? Since then, I've had conversations with several trusted mentors and have decided that it's not going to help me do the sorts of things that I want to do.
However, The Ten Day MBA looked like a quick and potentially useful survey over some of what I was missing. I'm pretty sure I'm not going to retain much of what I read; it's simply too fast. A 30 page summary of quantitative analysis? Nope. Silbiger only has the space to make super quick statements without follow-up, such as when describing the Keynesian relationship: "It was especially true in the period between 1950 and 1985, but it has not been consistently so over time, such as the period since 1985." What exactly is that saying? ¯\_(ツ)_/¯ You'll have to find your own answers to many such questions when reading this book.
The book also suffers from being an older book that has been updated over time. A section recommending the internet as a really good way to do research, which lists a few useful search sites including yahoo and google as really good resources? You might get a headache from the speed at which your eyes roll into their sockets. And that worries me about other advice in the book which I know less about.
I quickly realized this was going to be useful in the same way that books like "Teach yourself C++ in 21 Days" were useful in the age of dial-up networking and terrible internet searching — the book gives you a general overview of the topics, gets some key words and concepts in your head, and you can refer back to it whenever you need to. When you do that it will give you a quick overview, which you can use as a springboard to jump into more detailed study.
All-in-all, for me personally this book was probably a better investment than getting an MBA would be. I'll leave it at that.