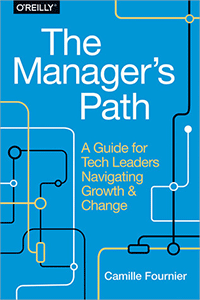 This book is a very short overview of the management career track — it's probably of most use to an engineer debating making the switch between the technical and management track. Fournier's thoughts resonate strongly with me, and I have already recommended it to a few friends and colleagues.
Some of her advice was entirely new to me; like this particular idea that made me stop reading and think for a bit: "Leaders who are strong team players understand that the people who report to them are not their first team. Instead, their first team is their peers across the company. This first-team focus helps them make decisions that consider the needs of the company as a whole before focusing on the needs of their team." That's such an interesting idea, but I was disapointed that Fournier doesn't go on to explore the idea in significant detail. Here's a longer passage that showcases the human-centered approach that she's filled the book with:
Do remember to be kind. It's natural and perfectly human to want to be liked by other people. Many of us believe that the way to be liked is to be seen as nice — that niceness is itself the goal. Your goal as a manager, however, should not be to be nice, it should be to be kind. "Nice" is the language of polite society, where you're trying to get along with strangers or acquaintances. Nice is saying "please" and "thank you" and holding doors for people struggling with bags or strollers. Nice is saying "I'm fine" when asked how you are, instead of "I'm in a really crappy mood and I wish you would leave me alone." Nice is a good thing in casual conversation. But as a manager, you will have relationships that go deeper, and it's more important to be kind. It's kind to tell someone who isn't ready for promotion that she isn't ready, and back that up with the work she needs to do to get there. It's unkind to lead that person on, saying "Maybe you could get promoted," and then watch her fail. It's kind to tell someone that his behavior in meetings is disrupting the group. It's awkward, and uncomfortable, but it's also part of your job as his manager to have these difficult conversations.
Her advice on hiring managers was, to me, one of the most valuable bits of insight in the book. She lays down some suggestions that have helped me think through how I could potentially build out a manager interview process that is truly audition-based. I'm excited to put those ideas into practice.
If the book has a weakness, it's that in achieving the "very short overview" it offers, the book feels rushed. As with the first-team focus I mentioned above — she leaves lots of ideas only partially explored. Luckily, the book does include a great list of suggestions for follow up reading. I found several books I'm looking forward to digging into.